5 Tricks to Keep Your Puppy Active, Healthy, Happy All Winter Long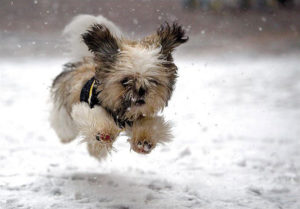 No matter how hearty and fun-loving your dog is, as a pet parent you know there will come a time when it's just too cold, snowy, icy, wet or windy for your pup to comfortably exercise outdoors. When the weather outside is frightful and the fire inside delightful, it's important to find ways to help your dog stay active indoors where it's safe and warm.
PetMd recommends dogs get 30 minutes to two hours of physical activity every day, with the specific amount that's best for a dog depending on her age, size, breed and overall health. Pets who get plenty of exercise are happier, healthier and less likely to engage in destructive behaviors like chewing.
With more than 50 years serving pets and their families, Petmate (R), is committed to delivering the best in pet products to keep your four-legged friends healthy, happy, safe and warm. The Petmate team offers five tips for helping your dog stay active indoors throughout the winter:
Play Fetch Indoors
Your dog's favorite game doesn't have to be just for outdoor fun. Indoor fetch toys like soft balls or flying discs allow your dog to safely exercise her body and her retrieving instincts indoors. Be sure to select soft toys such as the Chuckit! (R) Indoor Ball and Flyer for your indoor game of fetch, since plushy items will be less like to cause damage in the house. Score bonus pet parenting points for tossing the toy in such a way that your pooch gets the extra exercise of navigating a furniture obstacle course to retrieve it!
Hide And Seek With a Twist
You loved this game as a kid and your dog will too. Sneak off to a far part of the house and call her name. She'll love the mental challenge of hunting for you and the sense of victory when she finds you — and you make a big fuss over her for it!
For even more fun, take along a toy that features a squeaker to help the dog find your hiding place. You can also hide a favorite toy….
Read the rest of the story click here ►► 5 Tricks to Keep Your Puppy Active
Free Online Seminars and
Dog Training Mini Course.
Learn New and Advanced Training Tips,
Methods and Strategies, FREE!!
FREE Dog Training Course
CLICK HERE!