5 Tricks to Keep Your Puppy Active, Healthy, Happy All Winter!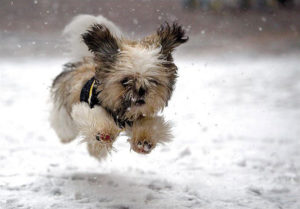 No matter how hearty and fun-loving your dog is, as a pet parent you know there will come a time when it's just too cold, snowy, icy, wet or windy for your pup to comfortably exercise outdoors. When the weather outside is frightful and the fire inside delightful, it's important to find ways to help your dog stay active indoors where it's safe and warm.
PetMd recommends dogs get 30 minutes to two hours of physical activity every day, with the specific amount that's best for a dog depending on her age, size, breed and overall health. Pets who get plenty of exercise are happier, healthier and less likely to engage in destructive behaviors like chewing.
Five tips for helping your dog stay active indoors throughout the winter:
1.) Play Fetch Indoors
Your dog's favorite game doesn't have to be just for outdoor fun. Indoor fetch toys like soft balls or flying discs allow your dog to safely exercise her body and her retrieving instincts indoors. Be sure to select soft toys such as the Chuckit! (R) Indoor Ball and Flyer for your indoor game of fetch, since plushy items will be less like to cause damage in the house. Score bonus pet parenting points for tossing the toy in such a way that your pooch gets the extra exercise of navigating a furniture obstacle course to retrieve it!
2.) Hide And Seek With a Twist
You loved this game as a kid and your dog will too. Sneak off to a far part of the house and call her name. She'll love the mental challenge of hunting for you and the sense of victory when she finds you — and you make a big fuss over her for it!
For even more fun, take along a toy that features a squeaker to help the dog find your hiding place. You can also hide a favorite toy and encourage her to find it. Reward her with pats and praise when she brings it back to you.
3.) Twice The Treat
Every dog loves a treat, but just as you're susceptible to packing on pounds during less active winter months, your pooch can be at risk for weight gain, too. This does not mean no snacks at all, just be sure to work in some exercise and double the enjoyment by making your dog work for a reward. Slip your dog's favorite treat inside a JWPet(R) Treat Pod or classic Hol-ee Roller(R) toy and let her figure out how to retrieve the treat from inside it.
4.) Walk in a Winter Wonderland
A dog's tolerance for cold temperatures depends on many factors, including her size, breed and personal preference. A big dog with lots of hair will probably be better equipped to handle cold better than a small, short-haired pooch, but you know your dog best and you can tell when it's too cold outside for her. Use common sense; keep your dog (and yourself) off ice and out of deep snow during walks, and bundle her up in a warm sweater and booties if she needs them. Since evenings and nights are darker in winter, check out Petmate MaxGlow(R) collars and leashes. They absorb light throughout the day and then glow at night to help make your dog more noticeable in the dark.
5.) Cater to Comfort, too
Everyone experiences the winter blues from time to time, during the winter months, when you're stuck indoors. The climate and atmosphere can affect your dog, too. Be aware your dog may need some extra comfort and safety measures to weather the winter. Just as you dress her in a warm sweater for outdoor playtime, your dog may appreciate a warm, snug bed during the winter. A great choice would be a Self-Warming Lounger Bed with reflective heat technologies, no batteries or plug needed to keep your pet warm and toasty.
Free Online Seminars and
Dog Training Mini Course.
Learn New and Advanced Training Tips,
Methods and Strategies, FREE!!
FREE Dog Training Course
CLICK HERE!
Here Are Some Bonus Tips For You and Your Dog or Puppy!!
6.) Create Your Own Indoor Obstacle Course For Your Dog
Create your own obstacle course inside your home. Have your dog jump over some towels, weave through his toys, and then lay down on a blanket. Use your imagination and come up with a set of obstacles for your dog to follow. Once your dog has learned how to jump over the towels you then move onto the toy weave. Building on prior tricks will keep your dog mentally stimulated and encourages focus.
7.) Teach Your Dog to Chase Bubbles
This is my favorite activity to keep my dog busy when I'm under the weather. It's such a simple way to keep my dog happy, entertained & exercised.
I don't know why but some dogs are fascinated by catching bubbles. There's even a wide selection of pet bubble making toys on the market. You don't have to go out and buy special bubbles either – the bubbles that are available for children are nontoxic. If you have a child in the home here's some proof that babies, dogs and bubbles are the most adorable thing on the planet.
8.) Buy Your Dog a New Toy, Make One, or Rotate Them
Studies have found that dogs get bored with their old toys. You can either buy your dog a new toy to get their enthusiasm going or you can rotate their toys. Instead of giving your dog access to all of their toys all the time give them a couple. If you rotate one of their old toys back into the mix after awhile they'll have some of that original enthusiasm back.
You can always make their toys more exciting by ensuring you're engaging with them by playing fetch or tug. Toys take on a whole new value once you get involved and start playing with it as well. There's also a ton of DIY toys you can make from household items such as old t shirts, towels, and denim.
9.) Play Find The Treats With Your Dog
Nose work games are one of the easiest ways to tire out your dog. When you teach your dog some basic nose work games such as 'find the treats' you're mentally tiring them out and helping them hone in on some of their natural skills. (chopped up carrots are my favorite treat to use for this game)
Grab some treats and have your dog watch as you place them around the room. Give your dog the cue to "find the treats" and encourage your dog to pick them up, remembering to praise them every time they find one. After your confident that your dog understands what "find the treats" means you can making it a bit more challenging. Have them stay in another room as you hide the treats, and start hiding them in spots they have to sniff out such as under a rug.
10.) Snuggle Up & Relax With Your Dog
After a nice training session or game there's nothing better than a little bit of relaxation. We all need time to unwind, and many of our dogs love to lounge around with us. Before bedtime each night I sit on the couch with Laika for a bit. It didn't start off as anything planned but now when 10:30 rolls around she hops up on the couch and looks at me – waiting for our nightly snuggle before bed.
Original Story click here ►► 5 Tricks to Keep Your Puppy Active